(Version 1.11)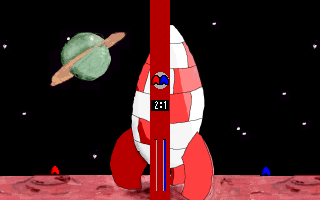 Rocket Duel is a game for two players on one computer (Mac or Windows) where you fly with your rocket and shoot down a friend. Download it now! Instructions on how to play are included. Play it and let me know what you think of it. A playfield editor is included in the Windows version.
System Requirements
Windows 95 or later with DirectX 5 or later or MacOS X 10.4 or later. (Mac version won't work on a recent computer, but the Windows version still works.)
Pentium II 233 MHz processor or faster. Mac version is a Universal Binary that runs on both Intel- and PowerPC-based Mac computers.
A graphics card capable of displaying thousands of colours in a 640×480 resolution.
A sound card and speakers are nice to have, and will increase the enjoyment, but are not required.
A mouse is not (!) required, and I doubt it will help you play the game if you do have one. Rodents don't have the intelligence needed to be good opponents.
A friend, to play against. There is no single-player mode in this game.